Welcome to Orenda Elementary School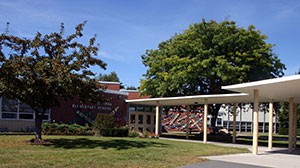 Orenda is one of four elementary schools located on the main campus. It is connected to Karigon Elementary School sharing a cafeteria/auditorium. It opened in 1968.
Mission:
The purpose of our school is to provide an educational program where all students learn to think and to apply thinking. Children should be provided with information and models that will help them act in a way that will make themselves and others proud. The only way to ensure academic, athletic, artistic and social success for all children is through cooperative efforts of the faculty, staff, parents, students and community.WE CAN HELP IMPROVE THE WORLD – ONE SCHOOL AT A TIME
Start & Dismissal Times:
School starts at 8:05 a.m. 
AM Kindergarten dismissed at 10:40 a.m.
PM Kindergarten starts at 11:45 a.m.
School is dismissed at 2:15 p.m.
Half day dismissal at 11:15 a.m.