Shen Alumni Network
Shenendehowa Alumni Network
The newly-established Shenendehowa Alumni Network is a partnership between Shenendehowa Central Schools and the Shenendehowa Educational Foundation.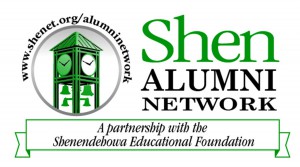 The Network is made up of a group of dedicated, student interns who work closely with the Foundation to forge a connection with and facilitate continued involvement by present, future, and former Shen students. The Network will periodically notify alumni about what's going at Shen and special events that are offered to alumni.
The Shenendehowa Educational Foundation raises money to help enhance the educational mission of the school district and support student activities in academics, athletics, and the arts.
Shen Alumni Network Database

We are pleased to announce the creation of the Shenendehowa Alumni Network—Keeping alumni connected to each other and their alma mater.
Graduates of Shenendehowa have a tremendous amount of pride in being affiliated with one of the best public schools in the region and state. Many of our alumni go on to do tremendous things all around the country and the world. To help alumni stay in touch with classmates and Shenendehowa, we have created an Alumni Network Database.
The Shen Alumni Network Database is a voluntary, password-protected database where alumni can enter as much or as little information as they want to stay connected with other alumni and the school district. The only fields that are required is name, year graduated and e-mail. Only those who enroll in the database can search for information about fellow alum. This database will allow alumni to change their own contact information to keep it accurate and up-to-date. 
Participation in the database also means that you will receive periodic e-mails from the Network or the Educational Foundation with news about programs, activities and priorities.