The districtwide Bountiful BackPack Program is a  partnership with the Regional Food Bank of NENY. It is designed to meet the needs of hungry children at times when other resources are not available, especially on weekends. The program provides a backpack filled with food that is child-friendly, shelf-stable, and easily-consumed. Bags are packed each week by volunteers and discreetly distributed by school staff for participating children every Friday afternoon.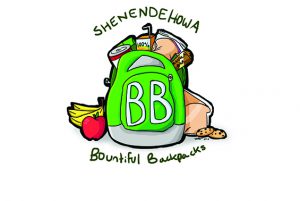 Each bag includes…
2 breakfast items (cereal, oatmeal packets, graham crackers, granola bars)
3 entrées (mac & cheese, PB & J, SpaghettiOs, tuna fish, soup)
2 juice boxes (100% juice)
Milk card for 1 gallon of milk (distributed every other week)
1 loaf of breadFresh fruits (apples, oranges, etc.)
Canned vegetables (distributed once a month)
2 snacks (cookies, popcorn, pudding, etc.)
Shenendehowa's Bountiful BackPack program is funded entirely by local donations with 100% of donations going towards running Shenendehowa's Bountiful BackPack program. The average cost of one backpack full of food is $6.10. The cost to sponsor a child for a full school year is $183.00.
How can you help?
To  make a donation online, go to https://donatenow.networkforgood.org/1415634 . Make sure that you indicate in the "Adopt-A-Program" text box that the funds are for Shen's Bountiful BackPack program so it can be directly credited to the district's account.