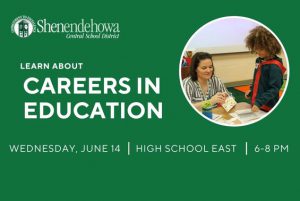 Shen is hosting a Careers in Education event on June 14, 6-8pm, High School East
All community members are welcome to attend and learn about careers in education- this is not just a Shenendehowa event. 
WHY TEACHING?
Teaching is a rewarding career that allows you to make a real difference in the lives of
generations to come. The demand for teachers in certain areas, such as special education, language, and the sciences is extremely high, so it presents a great opportunity to start a new career or shift careers. The combined compensation, benefits, and pension, makes teaching an excellent career choice.
EVENT SCHEDULE
6:00-6:30pm –
Introduction/Overview and Q&A
Shenendehowa CSD Superintendent, Dr. L. Oliver Robinson & Deputy Superintendent, Dr. Elizabeth Wood
6:45-7:15pm –
Breakout Session #1
7:30-8 pm –
Breakout Session #2
Ongoing –
College Fair – Representatives from local & regional SUNY & private college/universities
Ongoing –
Certification Assistance – Capital Region BOCES Regional Certification Office
Breakout Sessions will be offered in the following areas:
Special Education
Elementary Education (K-5)
Secondary Education (middle & high school)
World Languages & English as a New Language
Fine Arts
Career & Technical Education, Health, & PE
Related Services (Counseling, Psychology, etc.)