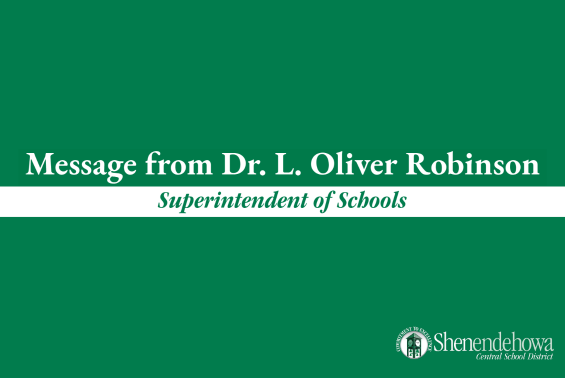 Shen Community,
Welcome back! Regardless of what you did over break, enjoyed a staycation, traveled to warmer climates, or visited family, I trust you were able to relax and rejuvenate. I personally timed it to have a partial knee replacement this week with hopes to be back in commission next week.
In so many ways, this is an amazing time of the year. We are seeing COVID more and more from the rearview mirror and consequently providing greater clarity as we plan forward and position the district for continued prosperity.
Yes, it is vital that we continue to engage in COVID safety practices (mask wearing, 6ft social distancing, hygiene) that have resulted in us being open and safely providing a high quality education to our students. We have come too far to slack off now. 
The point of being open is appreciated and accentuated even more so as the debate across the country about school opening rages. Here at Shen we have done what most schools and communities can not see as a reality. To that end, I humbly and profusely say, Thank You!
As we look ahead, it is important that we remain on the same page and have a common understanding of some Big Rocks.
Vaccination 
We are estimating that by the end of the April approximately 90% of all Shen employees will be vaccinated. Next week, we will be discussing the possibility of organizing the vaccination of students via organized PODs or Hubs with the Saratoga County DOH and other medical providers. The goal will be to make it expedient for eligible students whose families are interested in their child receiving the vaccine. More information will be shared as it becomes available.
If you have been vaccinated, please download the Excelsior Pass to keep it documented. Here is the link for your convenience: https://covid19vaccine.health.ny.gov/excelsior-pass.
On Tuesday, April 13, the Board of Education will be asked to approve the following recommendations:
a) 2021-2022 School Budget- focused on preserving high quality programs with little or no impact to tax payers. Fiscal responsibility has and continues to be a mainstay of the district.
b) Capital Project- we are excited about the $26.5 million dollar project that will provide needed repairs, enhancements at the middle and elementary levels, and necessary upgrades to the track and turf field complex. These projects, due to careful financial planning, will have very minimal impact on budgets in future years.
c) Bus Replacement- as a part of a comprehensive fleet maintenance and obsolescence plan, voters will be asked to approve a proposal to replace 17 buses to ensure that we are fully capable of transporting more than 10,000 students daily to Shen schools, specialized out of district programs, and to numerous private and parochial schools.
d) BOE Vacancy- three seats are up for re-election on the ballot
   3-year incumbent seat held by Robert Pressly

   3-year term due to a resignation

   1-year term due to the sad passing of a BOE member
We anticipate this to be a contested election. We have been extremely fortunate to have members on the Board who are motivated by and focused on providing a high quality educational experience for all students. Equity in opportunities and outcomes remain our North Star.
Graduation Planning
Last year at this time we were stymied about graduation. However, in true Shen fashion with a steadfast commitment to excellence, we pulled off and provided the Class of 2020 with a historic commencement.
As the COVID restrictions continue to be sensibly relaxed based on science and experiential data, we are increasingly optimistic about the possibility of an in-person ceremony(ies). The infection rate over the next several weeks, monitoring an anticipated post-spring break spike, will tell the tale.
Graduation planning will focus on the experience of graduating students. Commencement is a recognition and celebration of the academic accomplishments of graduating students, and they will be the focus of the high school administration's efforts and planning. Yes, we are looking to maximize opportunities to allow for family attendance, both in-person and live streaming.
The plan to celebrate and recognize the academic achievements of graduating students is ongoing and fluid, following applicable COVID protocols from the state and county DOH. Please be patient and stay tuned as more information is gained, details are confirmed, plans are fine-tuned and shared.
Again, welcome back. Let's all focus on finishing the year with vehement excitement. Shen is in! We are in it together!
Committed to Excellence,
Dr. L. Oliver Robinson
Superintendent of Schools