Safety and Security at Shen

Pursuant to the Project SAVE (Safe Schools Against Violence in Education) regulations:
Shen has a district-wide SAVE Committee that  develops and maintains a comprehensive Districtwide Emergency Response Plan that outlines what to do in the event of a natural, criminal or toxic disaster including emergency response protocols and prevention techniques. It is filed with the NYS Education Department annually. The district plan is always available to the public.
The district also has School Emergency Response Teams in every building that develop and maintain a School Safety Plan outlining evacuation routes, shelter sites, procedures for addressing medical needs, transportation, and emergency notification to parents. The building plans are confidential.
The district-level and building-level Emergency Response Teams meet several times throughout the year and are comprised of teachers, staff, administrators, school board members, law enforcement, emergency responders, parents, and students.
The district-level and building-level Emergency Response Teams are trained to use the Incident Command System (ICS). The National Incident Command System (ICS) standardizes incident management across all levels of government—federal, state and local.
Did You Know…Safety Measures at Shen
Fingerprint-supported, background checks are completed for all applicants for certification and all prospective employees.
Identification badges are provided and required for all school employees and visitors.
Teachers, aides and administrators are required to attend violence prevention and intervention training as part of the certification process.
All employees are required to complete a series of trainings annually, including safety training.
A single point of entry to buildings is required

The entrances at the middle and high school are attended by monitors requiring visitors to sign in;
All of the elementary schools have a buzz-in system.

Video surveillance is strategically located across the district and is accessible 24/7 to administrators
All volunteers are screened in accordance with BOE policy 3150F
Ongoing collaboration with NYS Police, the Saratoga County Sheriff's Office and first responders to complete the following:

Safety audits/inspections;
Crisis management trainings;
Various drills/simulations/tabletop exercises for staff for everything from mass casualty to fire to intruder situations.

District-employed security guards patrol the district 24 hours a day, seven days a week.
Three School Resource Officers are assigned to district-wide patrol during school hours, including special events as needed.
An annual report on all violent incidents is filed with the NYS Commissioner of Education.
Types of Emergency Responses
There are various types of emergency responses based on the types of events. Examples of events are system emergencies (fire, gas, water, weather, etc.), system threats (bomb, weapons), threat to self or others, or other types of student/staff emergencies (injury, accident, etc.). Drills during the school year help students and staff to prepare for these types of events, as the response may be different based on each unique situation.
SIS messages and other communications from and within the school district may refer to the various response types. The guide below is intended to help students, parents, guardians, and staff to better understand and differentiate between the different types of emergency responses. 
BLUE LIGHTS: All buildings are equipped with blue lights at main entrances. If you see a blue light flashing, or hear an announcement about a lockdown, you may not enter the building. Return to your vehicle and wait in the parking lot. Blue lights will be activated for drills as well, and the same rules apply.
NY State Emergency Response (S.H.E.L.L.)
S —

Shelter-In-Place
Shelter students and staff inside the building because it is safer inside the building than outside.
Actions:
Listen for instructions about the situation and your actions.

Students in hallways should return to assigned classroom, if possible.

Classroom teachers, take attendance.

All other staff assist students, as needed.

Move away from windows, if situation warrants.

If instructed, move out of classroom to designated safe area. Stay together at all times.

Take Attendance.

Listen for updates.
H — Hold-In-Place
Restrict movement of students and staff within the building while dealing with short term emergencies.
Actions:
Listen for instructions about the situation and your actions.

Students in hallways should return to assigned classroom, if possible.

Classroom teachers, take attendance.

All other staff assist students, as needed.

Listen for updates.
E — Evacuate
Evacuate students and staff from the building. 
Actions:
Listen for instructions about the situation and your actions.

Lead students to designated assembly or announced assembly area. Use secondary route, if necessary.

Bring attendance list and class roster.

Close the classroom door after exiting.

Take attendance when safe to do so.

If evacuating off site, take attendance before moving from and upon arrival at off site location.

Listen for updates.
L — Lockout
Students and staff remain inside locked school buildings during incidents that pose an imminent concern outside of the school. 
Actions:
Listen for instructions regarding the situation and your actions.

Lock all exterior doors and windows.

Leave blinds/lights as they are.

Take Attendance.

After initial instructions, listen for updates.

Classroom instruction continues as normal.

All outdoor activities are terminated.

Listen for updates.
L — Lockdown
Secure students and staff inside locked classrooms during incidents that pose an immediate threat of violence in or around the school. 
Actions:
When you hear LOCKDOWN, LOCKDOWN, LOCKDOWN announced, move quickly to execute the following actions.

If safe, gather students from hallways and common areas near your classroom.

Lock your door. Barricade if necessary.

Move students to a safe area in the classroom out of sight of the door.

Leave windows, blinds/lights as they are.

Keep everyone quiet. Silence cell phones.

Take attendance, if possible.

Do not communicate through door or answer room phone.

Do not respond to P.A. announcements or fire alarm.

Stay hidden until physically released by law enforcement personnel.
You can find a downloadable version of this information on the New York State Center for School Safety website.
Reunification Planning
What is Student/Parent Reunification?
Events may occur at a school that require parents/guardians to pick up their students in a formalized, controlled release.
Reunification may be necessary due to weather, a power outage, hazardous materials, or if a crisis occurs at a school.
The Standard Reunification Method is a protocol that makes this process more predictable and less chaotic for all involved.
Reunification is not a typical end of school day event; a reunification may occur at a different location than the school a student attends, including an off campus location.
If this location is another school, then those students may be subject to a controlled release as well.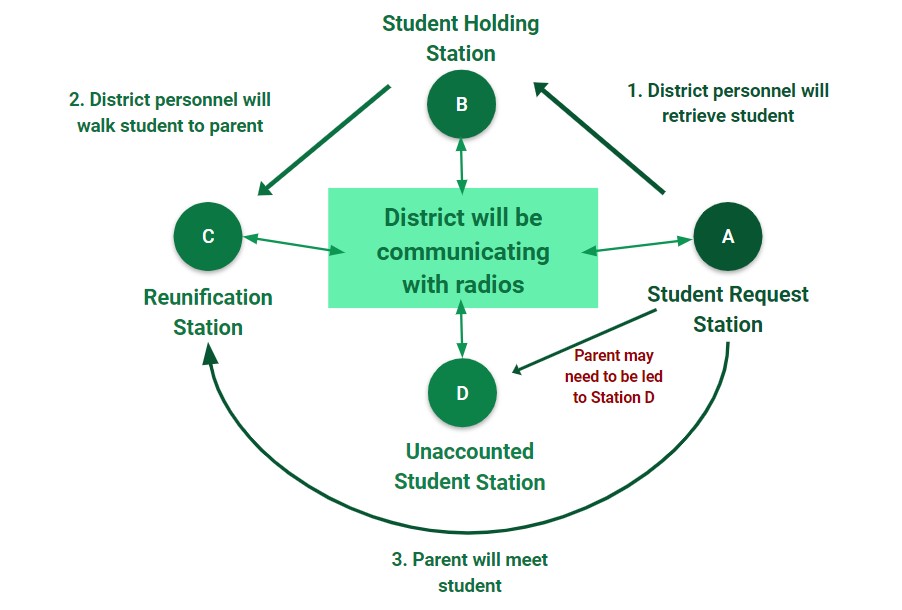 Frequently Asked Questions
Q. How will I be notified of a Reunification event?
A. Notifications will generally be via SIS message to parents/guardians (email, text, call), but may also be via the district website, social media, or local television stations and news outlets, depending on the number of schools impacted. In some cases, students may be asked to send a text message to their parents. A reunification text message from a student may look something like this: "The school has closed, please pick me up at 3:25 at the main entrance. Bring your ID."
Q. What do I need to bring to the Reunification location?
A. First, bring identification. That will streamline things during reunification. Second, be patient. Reunification is a process that protects both the safety of the student and provides for an accountable change of custody from the school to a recognized custodial parent/guardian.
Q. What if a parent/guardian can't pick up their student?
A. When a parent/guardian can't immediately go to the reunification site, students will only be released to individuals previously identified as a student's emergency contact. Otherwise, the school will hold students until a parent/guardian or previously identified emergency contact can pick up their student. Note that high school students cannot pick up younger siblings.
Q. What if the student drove to school?
A. There may be instances where a student may not be allowed to remove a vehicle from the parking lot. In this case, parents/guardians are advised to recover the student. In some circumstances, high school students may be released on their own.
Q. What will the experience be like for students?
A. For students, the school asks that students be orderly and quiet while waiting. Students may be asked to text a message to their parents/guardians. Students are also asked not to send other text messages either in or out of the school or reunification area. Keeping the cellular network usage at a minimum may be important during a reunification.
Q. What will the experience be like for parents/guardians?
A. When driving to the school or reunification location, greater awareness of traffic and emergency vehicles is advised. Parents/guardians should park where indicated and not abandon vehicles. Parents/guardians are asked to go to the Reunification "Check In" area and form lines based on the first letter of their student's last name. While in line, parents/guardians are asked to fill out a reunification card. In the case of multiple students being reunified, a separate card needs to be completed for each student.
Q. What happens during Parent/Guardian "Check In"?
A. Be sure to bring a photo id. Identification and custody rights are confirmed. From the "Check In" area parents/guardians are directed to the "Reunification" area. A runner will go to the Student Holding Station to recover the student or students. Parents/guardians should be aware that in some cases, they may be invited into the building for further information.
Q. Will there be law enforcement on site?
A. In some cases, parents/guardians may be advised that a law enforcement investigation is underway and may be advised that interviews are necessary. In extreme cases, parents/guardians may be pulled aside for emergency or medical information.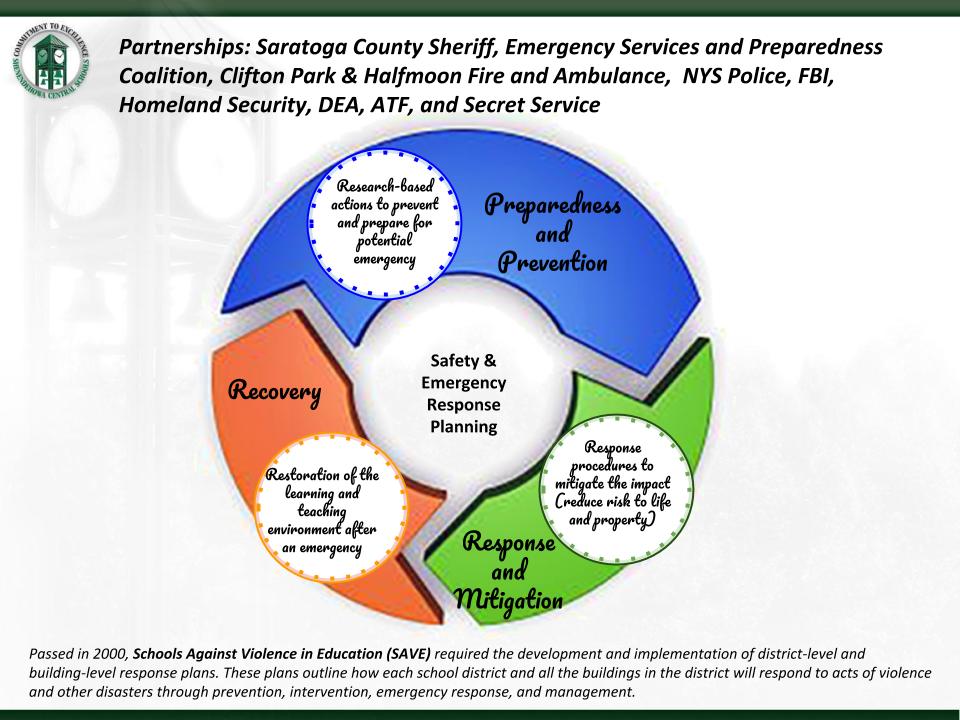 District Safety Management Plan
The district created this video for staff training.