Safety and Security at Shen
SAVE Legislation
Pursuant to the Project SAVE (Safe Schools Against Violence in Education) regulations:
Shen has a district-wide SAVE Committee that  develops and maintains a comprehensive District Safety Plan that outlines what to do in the event of a natural, criminal or toxic disaster including emergency response protocols and prevention techniques. It is filed with the NYS Education Department. The district plan is public.
The district also has School Safety Teams in every building that develops and maintains a School Safety Plan outlining evacuation routes, shelter sites, procedures for addressing medical needs, transportation, and emergency notification to parents. The building plan is confidential.
Both groups meets several times throughout the year and are comprised of teachers, staff, administrators, school board members, law enforcement, emergency responders, parents, and students.
Both groups are trained to use the Incident Command System (ICS). The National Incident Command System (ICS) standardizes incident management across all levels of government—federal, state and local:
Safety Measures at Shen
If you see something, say something! Fill out this form if you have a safety concern.
Identification badges are provided and required for all school employees and visitors.
A single point of entry to buildings is required. The entrances at the middle and high school are attended by monitors requiring visitors to sign in. All of the elementary schools have a buzz-in system.
Video surveillance is accessible to administrators to view via the internet throughout the high school, portions of the middle school, and the areas surrounding the transportation department.
An after-hours emergency hotline is available – (518)371-4004.
A volunteer application must be filled out by any person who consistently volunteers or chaperones on field trips.
The N.Y.S. Police, Saratoga County Sheriff's office and emergency responders work annually with the district to complete: safety audits/inspections; crisis management trainings; various drills/simulations/tabletop exercises for staff for everything from mass casualty to fire to intruder situations.
District-employed security guards patrol the district 24 hours a day, seven days a week.
Fingerprint-supported, background checks are completed for all applicants for certification and all prospective employees.
Two hours of violence prevention and intervention training are provided as part of the certification process for teachers, aides and administrators.
Safety training is provided each year as part of one staff development day.
An annual report on all violent incidents is filed with the NYS Commissioner of Education.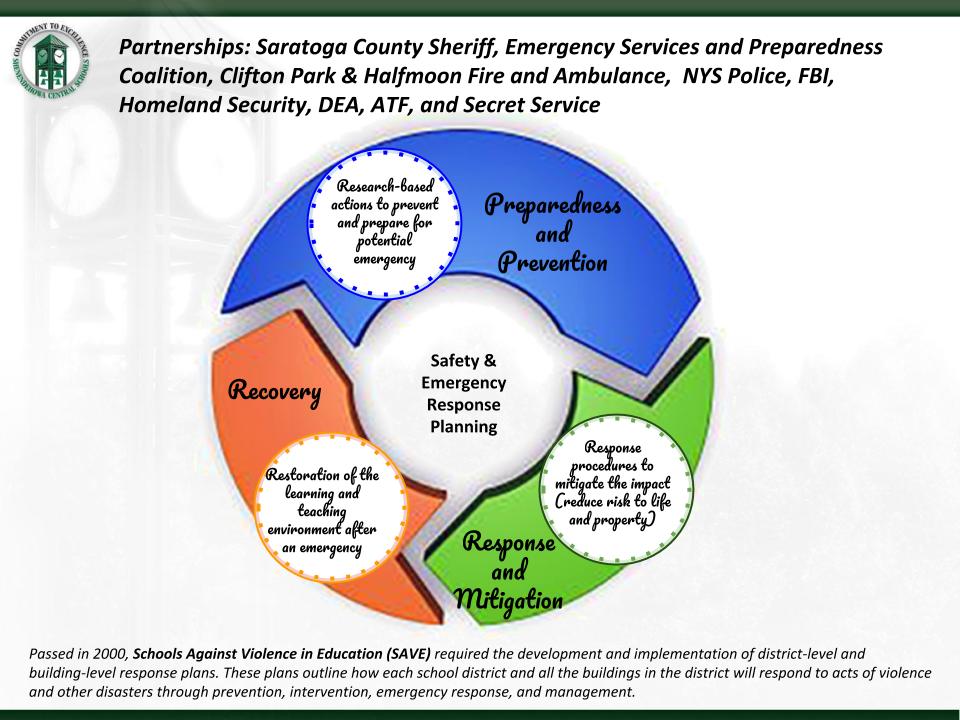 District Safety Management Plan
The district created this video for staff training.
https://drive.google.com/file/d/13xTcKo7MmKmjCi_0FhH53VyLPsAPeshj/view?usp=sharing