History of Carillon Bells
History of the Carillon Bells
Before 1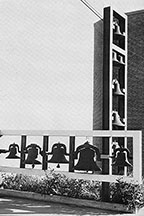 950, the district was made up of 22 one- and two-room school houses located in the towns of Clifton Park, Halfmoon, Malta, Waterford, Ballston and Stillwater (representing approximately 86 square miles)
Of these 22 school houses, 11 still had school bells. Rodney Winans, was a part of the committee that worked to centralize the district and he was the first superintendent. He brought the 11 bells together to the bell court on the main campus (the courtyard at Gowana) and had them assembled into a structure they named "the Carillon" (see picture above). The bells are a symbol that pays tribute to the schools and the towns that combined to form Shenendehowa Central Schools. Bell Tower
Age and the elements began to take their toll on the Carillon Bells. In the early 1990s, they were taken down and safely stored in one of the district's storage facilities until they could be refurbished and displayed properly once again.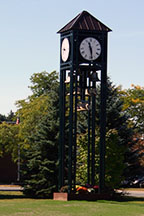 In August 2009, after being cleaned and refurbished, the bells were assembled into a bell tower in front of High School East to be prominently displayed once again. While the bells are no longer able to ring, they will serve as a symbol for generations to come. The bell tower was paid for through donations from the Shenendehowa Educational Foundation.
Location and status of original 22 schools that centralized to form Shen (underlined schools indicate where the bells of the Carillon came from).
Clifton Park #2 Grooms Corners, Grooms Road, N.E. corner, Sugar Hill & Ray Rd, razed
Clifton Park #3 Vishers Ferry (circa 1850), private home (bell)
Clifton Park #4 Clutes Dry Dock (circa 1832)-N.E. corner Moe/Crescent-Vischers Ferry Rd, Clifton Park – razed
Clifton Park # 5 Moe School-S.W. corner Moe/Grooms Road, Clifton Park, sold at auction in 1955 for $800, now a nursery school
Clifton Park #6 Town Sheds (circa 1837)- N.E. corner Vischers Ferry/Clifton Park Center Roads, Clifton Park razed (site of current town hall)
Clifton Park #7 Waite's Corners (circa 1855) – North side Route 146, East of Waite Rd, Clifton Park, sold at auction in 1953 for $600
Clifton Park #8 – In 1828, when Clifton Park was formed Halfmoon #6 became Clifton Park #13 (Ushers/Pig Street). In 1915, the original Clifton Park #8 was annexed to Burnt Hills and Clifton Park #13 was renumbered Clifton Park #8,  North side of Ushers Road East of Route 9, razed (bell)
Clifton Park #9 Jonesville (circa 1856) – West side Main St. opposite church, sold at auction in 1977 for $10,550. (bell)
Clifton Park #10 Elnora – West side Rt 146A, south of Kinns Rd, sold for $1,025 private home (bell)
Clifton Park #11 Kinns Rd (Skunk Hollow) – South side of Kinns Rd, west of Plank Rd, burned by vandals
Clifton Park #12 – Clifton Park Village – Northwest corner Cemetery Road/old Route 146, sold used as private business (bell)
Halfmoon #1 Middletown – Churchhill Road, private home (bell)
Halfmoon #2 Newtown – intersection Rte 146/236, private business
Halfmoon #3 Beach Rd, near Crescent Road – razed (bell)
Halfmoon #4 McArans, Cary Rd – original burned in 1950
Halfmoon #5 West Crescent – East side Dunsbach Rd., private home (bell)
Halfmoon #7 Coons Crossing – private owner
Halfmoon #9 – Guideboard Rd – Originally located on Grooms Rd/Rte 9, moved around the corner, now a private business (bell)
Halfmoon #11 Crescent – North side Churchhill Road, east of Rte 9, razed (bell)
Malta #4 Maltaville – Rte 67 east of Rte 9, private home (bell)
Malta #5 Armstrong's Corners – Southeast corner Eastline Rd and Round Lake Rd, razed
Malta #9 Round Lake Free Academy – razed following repeated vandalism