Shenendehowa Aquatics Center
Shen Swim Program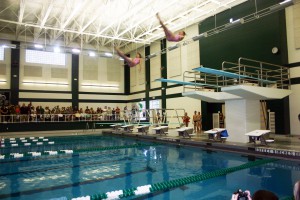 At the elementary level, grade 3 students take six lessons in the pool for three consecutive weeks. Students are bused by the district at no cost to parents. The curriculum consists of the American Red Cross Learn to Swim lessons and the Whales Tales Water Safety Program.
All middle school students are scheduled for four weeks of swim lessons (10 lessons) beginning in late fall and continuing through the spring.
As part of the Physical Education curriculum it is mandatory and all children are expected to participate. There will be ample supervision and the curriculum takes into consideration the experience levels of students, advanced swimmers versus non-swimmers. According to state regulations and board of education policy, there are no exemptions from physical education other than a doctor's note for medical reasons or religious reasons (BOE Policy 8330: Curriculum Areas In Conflict With Religious Beliefs).
Lifeguards will be on duty for all physical education classes. Physical education instructors are certified to deliver swimming instruction. Locker rooms will have same-gender supervision.
What to wear for PE class…
Bathing suits
Students will wear appropriate swim wear when in the aquatic center. Girls are required to wear one piece suits. Boys must wear swim trunks and may not wear cut-offs or shorts made of "jeans" or other materials. Both may wear a white/light colored t-shirt over the suit. Just like sneakers for regular gym class, parents must supply their child with a bathing suit. Students should bring a plastic bag to transport wet clothing/towels, EACH DAY.
Towels
Students must bring in a clean towel from home and a plastic bag to transport wet clothing/towels to and from school each day they have swim class.
Goggles/Swim Caps/Nose Plugs
Students may bring and wear their own goggles as long as they do not cover the nose. We ask that students to allow students to learn the correct breathing techniques used for swimming. Swim caps are permitted (long hair must be tied back). We would prefer that the students do not wear nose plugs during their PE class. We are trying to teach the students how to swim without plugging their nose, as this is a requirement by the American Red Cross.
Locker Room/Shower
There are bathroom stalls in the locker room for those who wish to change in private. Students are expected to shower upon entering the pool and after each use. It is recommended but not required that students have shower shoes, personal soap or shampoo.  Personal hair-dryers are not allowed. However, drying units are available and easily accessible.
Middle School Aquatics Program
Students are required to adhere to all pool rules at all times.
Classes are homogeneously grouped, meaning boys and girls will not be in the pool at the same time.
All students are water-tested the first day of the aquatic unit to determine skill level and are required to stay in their assigned area unless otherwise directed by their teacher.
Lockers are provided to all students during their scheduled 40 minutes of class ONLY. All belongings, including locks, are to be taken home at the completion of each swim class. Any locks and/or belongings left at the end of each day will be removed.
It is the student's responsibility to follow the rules. The PE Department is NOT responsible for any lost or stolen items.
Using a 40-minute period, students will be allowed 5 minutes to change into their bathing suits, shower and report to the pool deck; there will be 27 minutes of instruction; and students will be given 8 minutes to change at the end of class.
If there is a medical or religious reason for a child to be excused from swimming class, the student must bring a note stating the reason for non-participation. Students not participating for the duration of the unit will be provided a daily sheet to take notes during each lesson. At the end of the unit, students will complete a long-term assignment in lieu of participating.
All classes missed by female students due to menstruation are considered non-participation classes. Because non-participation classes will affect grade, students are encouraged to make up class when the student is able to swim.
Physical Education grades are based on participation.
Since this is a participation class, students are given an opportunity to make up any missed aquatic classes for partial credit only (2pt) either during the school day or before school during intramurals (8:00-8:40 am). A student is ONLY given this opportunity if they completed a daily sheet (1pt) during the missed class. This make-up MUST be done in the pool, not a regular PE class in the gymnasium. All make-ups must be done before the end of the quarter. See Physical Education Teacher to make arrangements.
If you have any questions or concerns, please contact your child's Physical Education teacher.
Swim and dive teams
Interscholastic athletics use the pool every day after school starting August through March for practice. The teams conduct home meets and showcase the pool and the swimming/diving program by hosting events such as sectionals and select invitationals.
Swim and dive team website (New link TBD)
Community Use of the Pool
The Community Education office provides opportunities for lap swims, swim lessons, aquatic aerobics, life-guard training and the Shen youth swim club.