Each year, the Capital Area School Development Association (CASDA)
recognizes Students and Teachers Who Make a Difference with a special recognition. Shenendehowa has chosen four students who then select a
teacher or counselor who made a difference in their academic and personal journey. Congratulations to all!
Here are the names of the students and who they recognized:
Jaden Homan nominated Teacher Kristina Saddlemire

Lauren Malek nominated teacher, Jordan White

Trinity Sanders nominated Counselor Megan Gifford

Catherine Wang nominated counselor Katherine Sapienza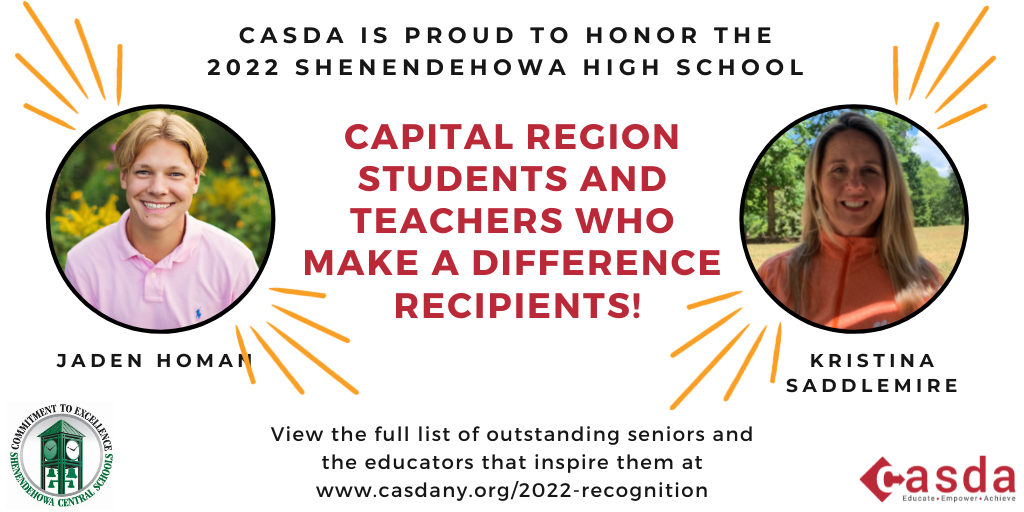 Jaden Homan
Jaden Homan is intuitive, independent and articulate. He is an amazing young man who possesses a strong will, intelligence across a broad spectrum of topics, and motivation to succeed. He combines this with a kind heart, sensitivity to and support of others, as well as one who values honesty and integrity. Jaden participates on our swim team, as well as a member of our Athletic Advisory Club, assisting athletes with any concerns they may experience. Jaden is an exceptionally bright student. He consistently exceeds expectations in class discussions and with the quality of his work. He is thoughtful with his statements and is a positive role model to his peers.
Kristina Saddlemire
Miss Saddlemire not only opened my eyes to the fascinating field of sociology, but also made me laugh and gave me crucial advice many times.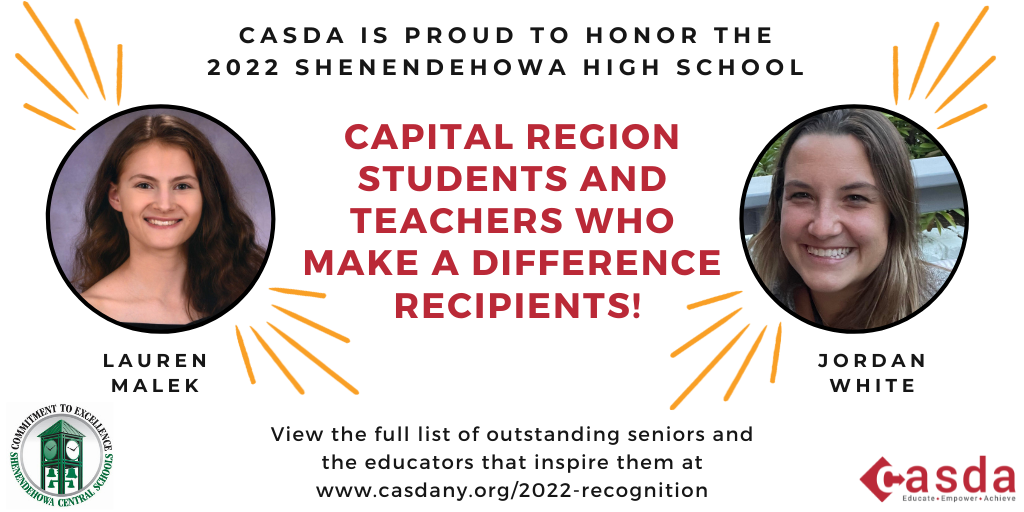 Lauren Malek
Lauren Malek is a stellar student. She is intelligent, bright, analytical and curious. Her work ethic is phenomenal. Lauren's talents go beyond the classroom, participating as an active member of the Shenendehowa Robotics Club-TEAM 20. Her leadership qualities have earned her the role of team representative presenting to the judging panel during competitions. Lauren is a leader in facilitating initiatives to enhance programming, awards and outreach for the club. As a student, Lauren grapples with deep tensions in our lives and always considers the ways in which we can build a better world.
Jordan White
Ms. White taught me to appreciate the power of writing. Her class constantly challenged me, and I felt she was personally invested in my growth.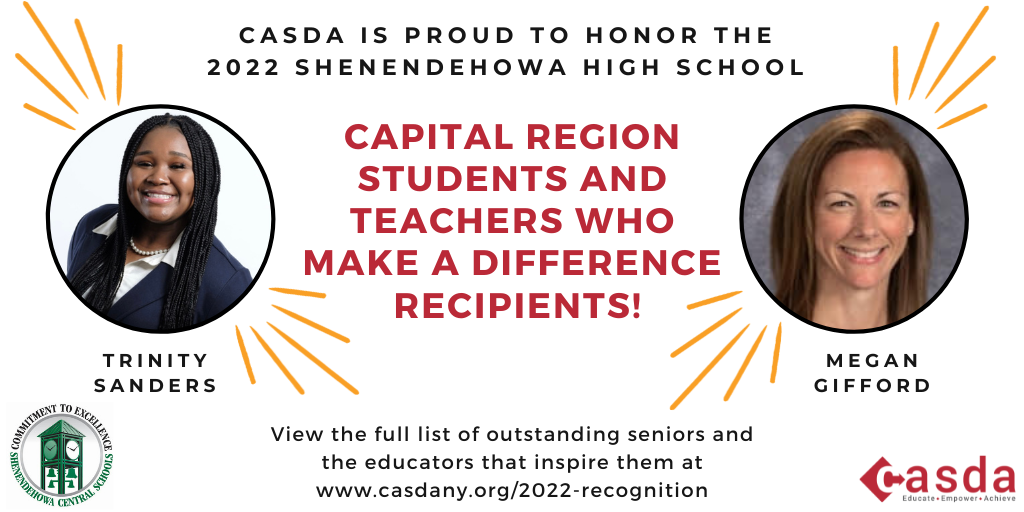 Trinity Sanders
Trinity is an exceptional young leader and Morehead-Cain Scholar. She is socially-minded, inclusive, passionate, and joyful. She is Co-Founder/Co-President of Project One, Inc., an international, youth-led non-profit organization with the mission of eliminating ignorance and bigotry. She founded the NAACP Youth Council of Schenectady, and is President of Shenendehowa's SFA Senate. Trinity works tirelessly toward her vision of a more just world and has already begun to move the needle on social justice issues. Trinity lives her life with integrity, kindness and joy, and brightens every space she enters. She is a catalyst for positive change in the world.
Megan Gifford
From helping me get a full ride to UNC, to being there for me during my darkest times, Mrs. Gifford truly changed my life.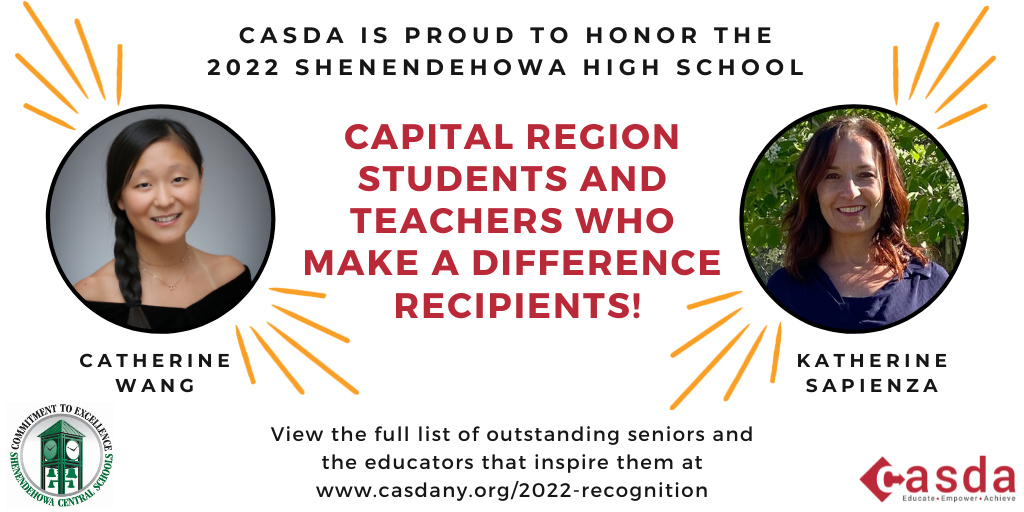 Catherine Wang
Catherine is an exceptionally conscientious, considerate and empathetic individual who excels in all areas of involvement – She is creatively brilliant and can add a dose of fun into any activity. Catherine formed the "Optimist Club" which has had an enduring positive impact on our school culture. Catherine's imaginative efforts have entertained and enlivened students and faculty with Tik Tok competitions, Quote of the Day, Change Wars, and her website Livin Lovin Vibin, just to name a few. I am not sure how this enthusiastic young lady, at the age of 18, has the keys to life but I know our world is a better place with this remarkable human being in it.
Katherine Sapienza
Mrs. Sapienza cares about her students and puts their needs in front of her own. Her dedication and kindness helped me thrive throughout high school.