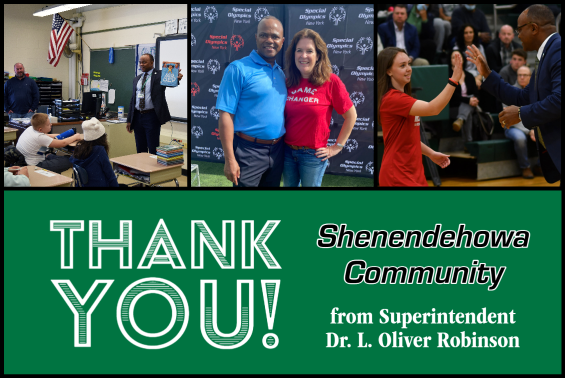 Dear Shen Community:
Thank you! Thank you! Thank you!
You, the Community, have spoken, and have spoken loudly about your unwavering support for our schools, our students and their shining futures.
Your vote, your voice, resoundingly speaks volumes about the essential nature of a quality educational experience, guided by three fundamental questions:
Diverse: How can we be more responsive to and capitalize on emerging changes and cultural shifts? 

Inclusive: What else can we do to make the school and classroom experience more relevant? 

Axiomatic: What else do we need to do to ensure equity in outcomes, all students succeeding and realizing their full potential?
The overwhelming margin of approval of the budget, 78.3%, provides the resources to make our otherwise aspirational goals, a profound reality. 
Your response to the ideological perspectives within the Board of Education race, speaks clearly to the need to have the best interest of all students at the center of our discussion, deliberations, and ultimately, decisions. I applaud all who put their names in the hat and endeavored to serve. I especially applaud and congratulate Deanna Stephenson, Tom Templeton, and Petra Holden on their election bids. To use a phrase coined by Deanna Stephenson, we are "partners in progress."
The support for the purchase of buses and multi-purpose vehicles provides the resources to contend with the demands of pupil transportation and the maintenance of our school grounds and facilities. Certainly, we will remain diligent in purchase planning, taking a measured approach that is environmentally sound and preserves fiscal responsibility.
The focus, our North Star, is truly on maximizing the boundless options and opportunities for all of our students, endeavoring to preserve equity in outcomes…helping each student realize their full potential.
Thank you! Thank you! Thank you!
Committed to Excellence,
Dr. L. Oliver Robinson
Superintendent of Schools
Shenendehowa Central School District