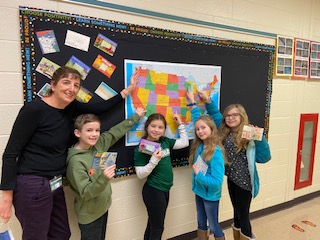 Okte Elementary school celebrated Read Across America Day on March 2nd by reading a book set in each of America's states. Books were read in every classroom, the art room, music room, and even the gym.  
Fourth-grade students researched 50 facts about New York State and shared those facts on postcards they illustrated in their art class. The cards were sent to schools in each of the other states, in return Okte received postcards from Florida, California, Alaska, and everywhere in between. 
The enthusiasm for reading continues as students decorate the halls with a fact from each state. Students will Read Across America as they read each state's fact, as part of a scavenger hunt.  Students are also reading to support the Ronald McDonald House. Reading spirit week will end Okte's March reading celebration.